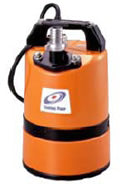 Tsurumi LSC1.4S
The Tsurumi LSC1.4S pumps are original residue dewatering pump with incredible efficiency; able to pump down to the floor, even the smallest puddle can be pumped dry. LSC drainage pump is the best for complete drainage of flat surfaces where a sump is not available.
Prime pump through discharge outlet for start up at any water level.

Internal check valve holds prime and prohibits back flow through pump when stopped.

Urethane, Semi Vortex Impeller and Wear Plates for maximum durability and maintaining pump     performance.

Dual Inside Mechanical Seal With SiC faces provides longer operational life.

Oil Lifter provides lubrication of the seal faces. (Patented)

V-Ring Seal design protects mechanical seal from abrasive particles.

0.4kw 

Single phase motor
Click here to learn more about this pump.