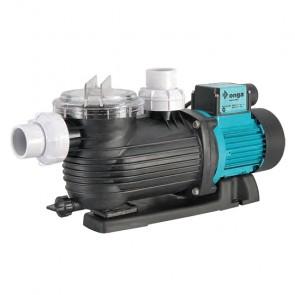 Onga Pantera Pool Pumps
The Onga Pantera pool pumps have been specifically and expertly designed to incorporate features that will provide reliable and efficient pump operation. The innovative technology wet end design integrates a unique molded end-shield cover and lip seal protecting the motor from water damage.
Applications:
Swimming pools fom 20'000L up to 100'000L

Solar Heating circuits

Above ground pools
IP55 (TEFC) Motor with IP55 protection from dust and water, preserving the pumps against the elements for many years

Stainless steel motor shaft

Electrical approvals - The pumps have passed all stringent Australian standards AS/ NZS136:2001 for safety and is approved for installation within the wetted zone of the pool area, approvals V99108, V001, V02302

Self-aligning barrel unions - Onga's unique 5 degrees self-aligning barrel unions mae pipe work connection a breeze

Plastic Yoke and Lip seal - The wet end design integrates a molded end-shied cover and lip seal, protecting the motor from water damage

Mechanical seal - A heavy duty ¾" 316 Stainless steel mechanical seal (on all models) provides extended life and longer intervals between servicing
OPERATING CONDITIONS
Suitable for pumping clean non-aggressive liquids without solids or fibers in suspension.
Click here to find out more about this pump series.