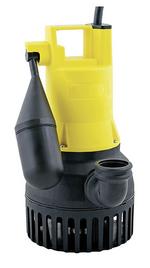 Jung U6KES Submersible pump
The Jung U6KES submersible drainage pump is ideal for both stationary and portable use. It can be used as a drainage pump for a wide range of situations such as for mildly contaminated waste and groundwater, rainwater, drainage or sewage water, silage liquor and also liquid manure. The high-quality mechanical seal also makes the pump suitable for extracting abrasive media, making this expertly designed pump incredibly versatile.
Continuous operation

Flushing device

Replaceable moisture sealed cable inlet

Low-level pumping by removing the strainer base

SiC mechanical seal independent of rotation direction

Float included

10/20 mm free passage with EIP technology

Voltage: 1/N/PE~230
Motor rating: P1 - 0.75kW,
Single-phase
Current type: W-Strom
Current: 3.3A
Motor protection: internal
RPM: 2645 min-1
Click here to learn more about this pump.